AWARD CATEGORY
---
Disruptive Innovation Award
This award is made to a start-up or new business venture which has truly innovated and caused disruption in the industry. The winning company would have launched a new product or service that has delivered a measurable benefit for business users or customers and has completely disrupted or caused innovation in the existing marketplace.
2018 winner: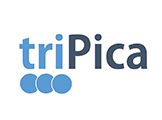 Eligibility Check List
In order to be eligible for this award, the nominated company must:
A newly formed innovative company which is having a high value industry impact and is no more than five years old, with a valuation of no more than $50million.
Able to demonstrate and quantify how the service is innovative and new and how it has disrupted the current market landscape
Able to quantify the business value delivered through the service and commercial potential of the service.
Judging Criteria
The judges will look at the following criteria when evaluating the entries:
How commercially successful has the service been to date, what is its growth potential?

How is the company/service contributing to disrupting the current market status quo? - What will the market impact be?

What problem does the company/service solve through its innovative approach? i.e. is it solving a new problem or an existing problem in a new innovative way?