2018 AWARD WINNERS
---
Disruptive Innovation Award
This award is made to a start-up or new business venture which has truly innovated and caused disruption in the industry. The winning company would have launched a new product or service that has delivered a measurable benefit for business users or customers and has completely disrupted or caused innovation in the existing marketplace.
2018 Finalists:
Alitize Digital • Brytlyt • triPica • Zeepabyte
2018 winner: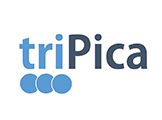 "In two years we have built a digital BSS. A lot of people talk about digital telcos, but few achieve it and achieve it fast, and we were able to do that. We saved a lot of time using the TM Forum APIs."
---
This award goes to a startup or new business venture that has been innovative and caused disruption in the industry. triPica, a two-year-old French startup providing a digital cloud BSS (business support system) solution, won this award for its use of TM Forum Open APIs and the Open API Data Model in enabling Malaysian telco Yoodo to launch as a greenfield digital operator in just six months. triPica delivered the full digital BSS stack including all front-end capabilities (marketing portal, self-care and agent tool) and the interface with a new online charging system. triPica also used the same core platform and data model to enable a German utility called Enercity to launch from scratch in 2017.