2018 AWARD WINNERS
---
Open API Awards
This award recognizes the company which has successfully adopted the widest number of relevant TM Forum Open APIs into their product(s), which has led to increased business agility and operation agility of their customers (measured in terms of improved time-to-market; ability to rapidly respond to market demand or opportunity and ability to work with and onboard third parties easily etc).
2018 Finalists:
BearingPoint • DGIT • Openet • Vlocity • ZTEsoft
2018 winner: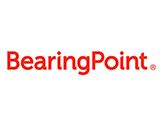 "We saw the opportunities opened by Open APIs. Everything in this business is about speed and the Open APIs enable you to be faster and more agile."
---
BearingPoint won this award for its API-enabled digital platform solutions, 100% of which use TM Forum Open APIs. So far, the company has implemented 17 Open APIs in its products (Infonova BSS, Infonova Digital Business Platform, and Infonova GO), and the solutions have been rolled out to multiple clients that are active in more than 30 countries on 5 continents.